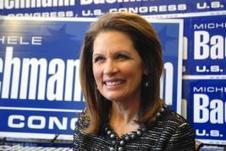 TDF Comments: Unlike regular citizens who must pay their bills on time to maintain a decent credit score that reflects on their character, ability to obtain a job, keep a job, rent an apartment or buy a car — politicians, like Bachmann can pay their campaign debt "whenever they feel like it — or never".
The story (Huffington Post)
…Paul Ryan, the associate legal counsel at the nonpartisan Campaign Legal Center, said he's not surprised Bachmann is concentrating on building cash for her congressional re-election effort rather than paying off her presidential campaign debt.
"Any politician's first priority is going to be fueling their future political ambitions, not dealing with their failed past political ambitions," Ryan said.
Ryan said Bachmann can pay her presidential campaign debt whenever she wants to. Some campaigns never pay off their debt. Bachmann insists she'll make good on her presidential campaign bills.
Ryan said she can worry about the debt after she's re-elected to Congress.
"Raising money for old debt isn't much fun. That being said, when someone remains in office they are typically capable of raising money to retire old debt as well as to fund future campaigns because what a lot of donors really want is access to and influence over office holders and they don't much care what the money is being used for," Ryan said.
See on minnesota.publicradio.org