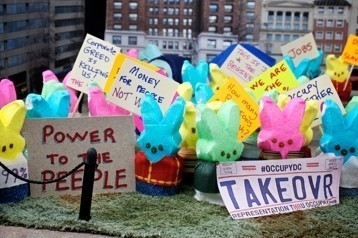 The Daily Feast Comments: Silly parents who act more like bullies have seen their bad behavior cancel Easter egg hunts from Georgia to Colorado, and Illinois in between.
Thank God we have Peeps! This year's winner is shown in the picture. Occupied Peeps DC. To see the full Peep's show: CLICK HERE

For more on the naughty parents who have wrecked Easter for kids see below or click on the title.
Overzealous parents have been blamed for turning annual Easter egg hunts into events that are downright dangerous and just not fun.